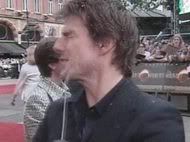 LITTLE SQUIRT: Tom Cruise drenched with water by a bogus British TV interviewer at the London premiere of War of the Worlds Sunday. The prankster and three other men--who were shooting the squirting gag for a British TV show--were arrested. Katie Holmes was with Cruise but managed to escape undampened. Three of the men were released on bail; one was detained for further questioning.

BACKLASH: Steven Spielberg telling Newsweek that he thinks the media "punished" Cruise for his public declaration of his love for Holmes during an appearance on The Oprah Winfrey Show, but downplaying speculation that Cruise's outspoken passion will hurt publicity for War of the Worlds.



POSSIBLE MISSION: Laurence Fishburne and Philip Seymour Hoffman close to signing on to the cast of Mission: Impossible 3, per the Hollywood Reporter.

BATMAN BEGINS ON TOP: Batman Begins racked up an estimated $46.9 million to debut atop the weekend box office. The boffo tally wasn't enough to reverse the 17-week slump.

CODA: Soul Asylum bassist Karl Mueller died Friday, following a battle with throat cancer. He was 41.

STORK WATCH: Martina McBride and husband, John, welcoming their third daughter, Ava Rose Kathleen, born Monday.

SISTER ACT: Britney Spears' younger sister, Jamie Lynn, getting her own clothing line based on the clothes she wears on her Nickelodeon show, Zoey 101.

FAMILY TIME: Family Guy creator Seth MacFarland preparing his direct-to-DVD movie based on the adventures of his cartoon creations for a Sept. 27 release, per the Hollywood Reporter.

MUGGLES ON A MISSION: Barnes & Noble announcing that pre-orders of Harry Potter and the Half Blood Prince have already topped 750,000. The book will be released on July 16.

SQUEAKY CLEAN: USA Network offering free car washes in Chicago, Detroit and Los Angeles in order to promote the fourth season of Monk, premiering July 8.

PARTY FOUL: Leonardo DiCaprio rushed to the hospital after a woman threw a bottle at him during a Hollywood party given by Rick Salomon, aka Paris Hilton's videotape costar. DiCaprio received about a dozen stitches to close a gash near his ear, People reports.

ON ITS WAY: Disney and Spyglass Entertainment finalizing a deal to bring the classic cartoon Underdog to the big screen, per Variety.

HOT STUFF: Aerosmith guitarist Joe Perry bringing his signature hot sauces to the Specialty Food Trade's Fancy Foods Show from July 10-12.

IDOL TIME: American Idol producers launching an online version of the show via an Internet radio station. Beginning this fall, contestants will be able to upload their music for a $50 entry fee to be rated by listeners. Prizes have not yet been determined.

THEY DON'T: Ben Affleck and Jennifer Garner denying reports that they wed secretly over the weekend, per the New York Daily News. "They did not get married yesterday. They did not get married today," Affleck's rep said.

BACK TO LIFE: MTV2 reviving Claymation series Celebrity Deathmatch with eight new episodes premiering in November.

MORE THAN OK: Spin magazine naming Radiohead's OK Computer the top album of the last 20 years in its 20th anniversary issue currently on newsstands.

FED UP: John Leguizamo telling the National Association of Hispanic Journalists that he has become disillusioned by the stereotypical roles of handymen and gangsters that Hollywood offers its Latino actors.

DATELESS: The Miss America Organization still looking for a network to televise the annual pageant after ABC dropped it last year due to record low ratings. The pageant usually takes place in September, but will likely be pushed off this year.

FATHER'S DAY: Robert De Niro tearing up in a French museum Saturday while viewing an exhibition of paintings by his father, Robert De Niro Sr., who passed away more than a decade ago.

DON'T STOP 'TIL YOU GET ENOUGH: The family of Michael Jackson threw a party Friday at an Indian casino to thank friends and fans for their support during his 14-week trial. Among the 400 guests were Tito and Janet Jackson, Michael's personal magician, Majestik Magnificent, and even a juror from the trial. Michael, however, was MIA.

SERIOUS BUSINESS: Janet Jackson accepting a Humanitarian Award from the Human Rights Campaign Saturday and apologizing for her lack of humor during her acceptance speech, explaining that her family had just been through the "least humorous chapter" in their lives.

BACK TO THE MOTHERLAND: Illusionist Roy Horn checking into a German rehabilitation facility as he continues his recovery from a near-fatal tiger mauling that left him partially paralyzed.